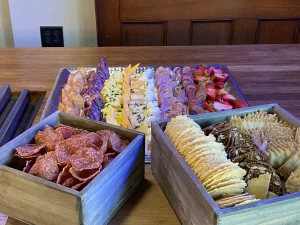 Our salami chips have all the crunch of a potato chip without the carbs. If you love salami and a good crunch, it's time to meat the crunch. Protein-packed, gluten-free, carb-free, great tasting and crunchy. What more could you want?
Our patent-pending chips are made in small batches in Michigan. Each bag starts with thinly sliced salami and is prepared using our proprietary process, which removes half the fat and half the calories. The result: shelf-stable salami chips with a surprise crunch.
Snackers rejoice! There are so many ways to enjoy our salami chips. Eat them straight out of the resealable bag or pair them with jams, mustards, dipping sauces, cheeses, or items you would enjoy as part of a charcuterie board. Crunch them up on salads, eggs, pasta, potatoes, and more.  Add them to the foods you're already creating for taste and texture. Check out our recipes to crunch things up!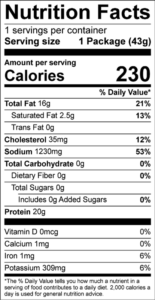 And our original salami chips are the perfect grab-and-go versatile crunchy protein-packed snack for on the go, on the road, on the run, on the plane, on the ground, on the golf course, on the boat, hiking, camping, fishing, at the pool, on a picnic…and just about anywhere you might need a boost of protein and great flavor.
Each chip is made with our vision of Moxy – the courage to be different.  Will you dare to be different with us?