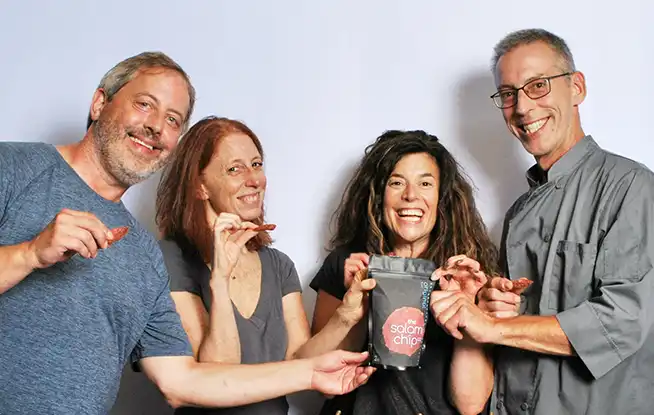 We love salami, and we love crunchy chips. We couldn't find anything that matched the crunch and flavor profile we were looking for, so we created our own: meat the crunch.
Our salami chip story began over 20 years ago when a client from our catering business requested a tapas menu for their party. This was in the early days of the Internet when you still had to go to the library to do research, and we poured over tapas menus and recipes to find the perfect combinations. 
We created our original salami chips by combining a few ideas we saw that day, and they became an instant hit. In fact, until Covid, the only way that you could get our salami chips was by attending the private parties that we cater.
When Covid hit, there were no parties, and we started getting calls from clients asking for our salami chips. We'd always thought about packaging the salami chips and selling them but never had the time. Now we finally did.
We spent 2020 refining our process, figuring out the packaging, and getting USDA certified. Our patent-pending chips are made in small batches in Michigan. Each bag starts with thinly sliced salami and is prepared using our proprietary process, which takes out half the fat and half the calories. The result: protein-packed, gluten-free, carb-free, and great-tasting shelf-stable salami chips with a surprising crunch.
We invite you to meat the crunch anywhere and everywhere, with or without dressings or accouterments.